Virtual Vacation Bible Camp 2020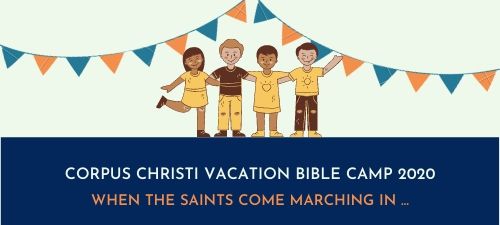 WHEN THE SAINTS COME MARCHING IN …
EVENT: Children's VIRTUAL Vacation Bible Camp, 2020
WHEN: August 2020: Mon 17th, Wed 19th, Fri 21st, Mon 24th, Wed 26th
WHERE: VIRTUAL – ONLINE [ZOOM]
TIME: 10:30 – 11:30am
HOSTED BY: Children's Evangelization Ministry, Corpus Christi RC Church, South River
REGISTRATION FEE: FREE
Notes:
* First 6 Registrations will receive a free VBS Camp Sack(‡)
(‡)Camp sacks available for pick up on August 14, 4pm-6pm (contains craft materials and snack)
* Geared towards children ages 6-10.
* There will be a raffle on the last day of camp
The Children's Evangelization Ministry is not letting go of summer 2020 without a Children's Vacation Bible Camp. You might be wondering as to how we are going to do this given restrictions on physical encounters. And with children, social / physical distancing can be a challenge. Sooooo….
CORPUS CHRISTI VACATION BIBLE CAMP IS GOING VIRTUAL! We are not going to let any virus stop us from sharing the story of Jesus and the saints with our children. You might ask if it is at all feasible – to mix fun and games with religious education on-line? Absolutely!!
This new camp, with the theme "WHEN THE SAINTS COME MARCHING IN", will guide our children through reflections on the theological virtues of faith, hope and charity modeled by the saints – our brothers and sisters in heaven. How these virtues relate to the family, the parish community and outside the "walls" of Corpus Christi Church.