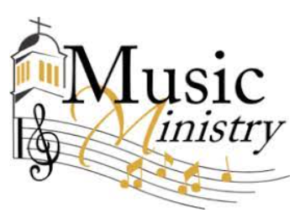 St Augustine: "To sing is to pray twice."
Welcome to the Corpus Christi Music Ministry. Our music director/organist, Susan Loughlin, is always looking for parishioners interested in leading our congregation in worship and song.
Our adult choir rehearses on Thursday evenings, from September through June, at 7PM in our church sanctuary. We welcome new members to join us; no formal musical training is necessary, just a love of singing praises to God. We sing a variety of musical styles, from traditional choral music and chant to newer hymn tunes and spirituals. Our choir usually sings at the 10AM Sunday mass, and major holidays: Christmas, the Easter Triduum, and select Holy Days.
We also are blessed with a beautiful set of Handbells, that we have been incorporating into our music throughout the year and hope to form a Handbell ensemble to add to our liturgical celebrations.
Our children and youth also have a part to play in our music ministry. We welcome our parish children to participate in an annual Christmas Pageant, in cooperation with our Faith Formation Program, and our young parishioners of middle school age to be a part of a dramatic production of Stations of the Cross during Lent.
If you are interested in becoming part of the music ministry or would like more information, please contact Susan Loughlin at susanmarieloughlin@gmail.com or leave a message at the parish office.