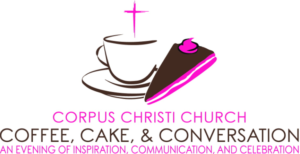 Please join us for an evening of great conversation with other women who share your faith. The discussions will be informal, friendly, and uplifting. Topics will range from raising a family to career, stress, marriage, joys, sorrows, and more.
Meetings will be held the monthly from 7:30– 8:45 pm – Corpus Christi Church Hall.  Dates are posted on the calendar.
Coffee & Cake will be served.
RSVPs requested but not necessary.  Please call/text 732-801-3569 to rsvp or with questions