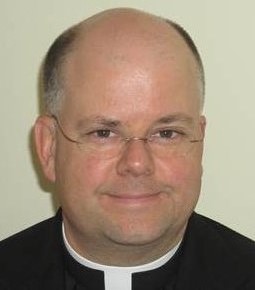 Our Pastor, the Rev. Damian B. Breen
Fr. Damian B. Breen, whose Christian name is Brian, is the only child of the late Edward R. Breen and Nancy L. Blackmon of Catonsville, MD.  He was born on February 21, 1969.  Having grown up in Catonsville, MD, his home parish was St. Agnes Church.
Having discerned an early vocation to the priesthood, he attended the Vincentian High School Seminary of St. Joseph in Princeton, NJ and was graduated from there in 1987.  Continuing his study and formation with the Vincentian Fathers, he attended St. John's University in Jamaica, NY and was graduated from there in 1991 with a B.A. in English with minors in Theology and Philosophy.
He attended St. Vincent Seminary in Latrobe, PA where he completed his theological studies for the priesthood receiving a M.A. in Sacred Scripture in 1997 and a M. Div. in 1998 and was then assigned as a Deacon to the parishes of St. John the Evangelist Church in Latrobe, PA and St. Elizabeth of Hungary Church in Linden, NJ.  He was ordained a priest in the Order of St. Benedict at St. Mary's Abbey by Bishop Frank Rodimer on June 6, 1998 and took up the tasks of teaching English, Religion, and the work of campus ministry at Delbarton School in Morristown, NJ.  While teaching at Delbarton School, his first assignment as a priest was as a Weekend Assistant at St. Joseph's Church in Mendham, NJ.  In July of 2000, he was assigned as a full time Parochial Vicar to St. Elizabeth of Hungary Church in Linden, NJ, a parish administered by the monks of St. Mary's Abbey.
Having completed his tenure of service at St. Elizabeth of Hungary in January 2006, he was then assigned as a Weekend Assistant to Nativity of Our Lord Church in Monroe, NJ.  He was then assigned as Parochial Vicar to the following parishes: St. James of the Marches Parish in Totowa, NJ in 2006-2007, Church of the Sacred Heart of Jesus, South Plainfield, NJ in 2007-2009, St. Bartholomew's Church, East Brunswick in 2009 – 2010, St. Bernard of Clairvaux in Bridgewater in 2010-2012, St. Helena's Church in 2012-2013.
Effective June 30, 2013 by appointment of the Most Rev. Paul G. Bootkoski, Bishop of Metuchen, Fr. Damian will be Administrator of Corpus Christi Parish succeeding Fr. John Brundage's retirement as pastor.  Fr. Damian asks for your prayers as he begins this time of transition and priestly ministry.