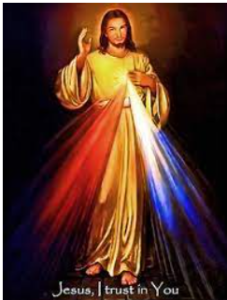 The Divine Mercy Prayer Group, is a group that is devoted to the Messages of Divine Mercy. The group meets virtually via Zoom on Sundays at 8:00PM. During each session, the group prays the Divine Mercy Chaplet, Litany of Trust and Divine Consecration prayer for families. Time is also devoted to a reflection on Divine Mercy and group discussion. New members are always welcome. For information, please email Eliana at corpuschristievm@gmail.com
What is Divine Mercy all about?
On the 22nd of February, 1931, Sister Maria Faustina Kowalska had a vision of Jesus while she was in Plock, Poland. Jesus appeared to her and said;"Paint an image (seen here at left) according to the pattern you see with the signature: JESUS I TRUST IN YOU. I promise that the soul that will venerate this image will not perish. I also promise victory over (its) enemies already here on earth, especially at the hour of death. I Myself will defend it as My own glory"
Jesus gave Sr. Faustina many messages and asked her to record these experiences, which she compiled in notebooks. These notebooks are known today as the Diary of Saint Maria Faustina Kowalska and the words contained within are God's loving message of Divine Mercy. These
requests of the Lord given to Sr. Faustina between 1931 and 1938 can be considered the beginning of the Divine Mercy Message and Devotion in the new forms.
Pope John Paul II canonized Sr. Faustina in 2000 making her the "first saint of the new millennium." Speaking of Sr. Faustina and the importance of the message contained in her Diary, the Pope call her "the great apostle of Divine Mercy in our time."
Today, we continue to rely of Saint Faustina as a constant reminder of the message to trust in Jesus' endless mercy, and to live life mercifully toward others. We also turn to her in prayer and request her intercession to our merciful Savior on our behalf. At the National Shrine of The Divine Mercy, we include the following in our 3 o'clock prayers:
O my Jesus, each of Your saints reflects one of Your virtues; I desire to reflect Your compassionate heart, full of mercy; I want to glorify it. Let Your mercy, O Jesus, be impressed upon my heart and soul like a seal, and this will be my badge in this and the future life.